Connected TV
We sit at the heart of the CTV landscape, connecting all the key players. We are empowered to efficiently deliver your highly customized campaigns, at scale
Why CTV with Precise TV?
Precise TV has

7+ years of experience in CTV buying

through YouTube.
CTV viewing is on the rise with over

143 million individuals in the US watching YouTube via connected TV

at least once per month
Now, Precise TV's award winning YouTube approach is available on programmatic CTV.
Almost

85% of US households are reachable via programmatic CTV.

Americans

streamed more than 80 minutes of OTT video every day

in 2021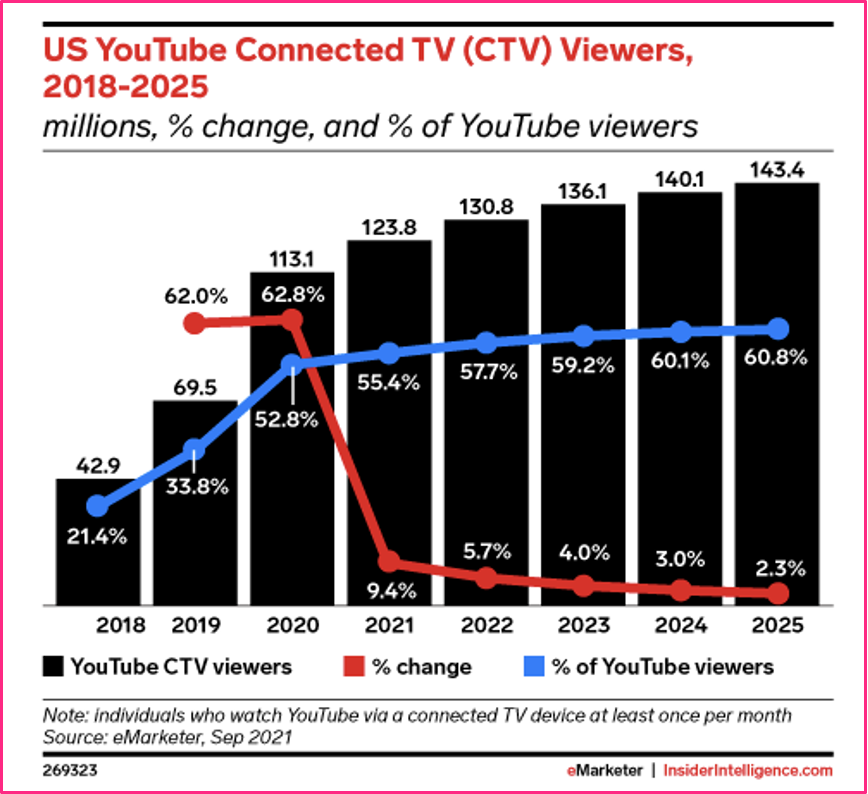 Our Approach
The Precise TV platform ensures your ads only appear next to videos that are relevant to your target audience. Whether driving brand awareness or product sales, our campaigns deliver positive business outcomes.
Precise TV merges deep contextual intelligence, historical performance data and opt-in panel data. Then AI and machine learning optimize towards campaign objectives.
We overcome the fragmented landscape, lack of transparency and annoying bundled package pain points by:
Testing and learning on YouTube and translating the insights over to CTV - with 7+ years of high performing YouTube campaigns, plus multiple Precise TV & 3rd party data sources, we have a huge volume of audience behavioral and shopping data
Pre-bid video-level targeting with full transparency
We analyze individual videos and categorize them based on content, allowing highly focused (but limited reach) content targeting

Expand reach by targeting content in groups, such as specific channels, publishers, and genres.
Running, optimizing, measuring and growing your CTV presence
Read more about our CTV offering by taking a look at the work we did for Elvie.
To learn about how we can achieve, on average, a 60% reduction on media wastage, 25% purchase intent uplift and a 6x return on ad spend for your brand, get in touch using the form below.